Vickys Lemon Meringue Pie GF DF EF SF NF Vegan.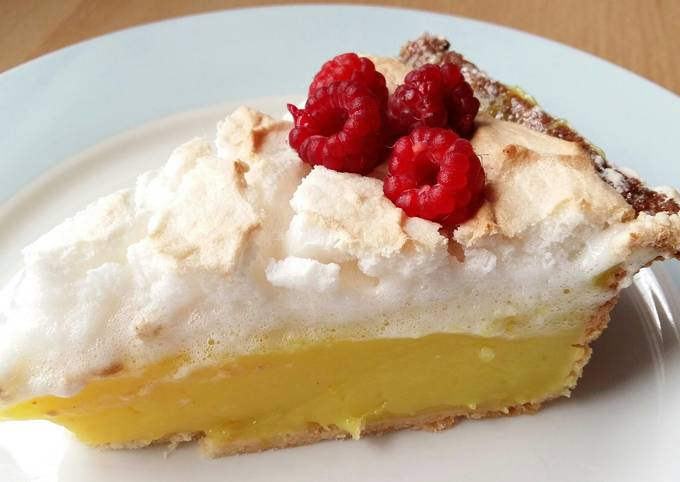 You can have Vickys Lemon Meringue Pie GF DF EF SF NF Vegan using 17 ingredients and 7 steps. Here is how you achieve it.
Ingredients of Vickys Lemon Meringue Pie GF DF EF SF NF Vegan
It's 1 of ready baked 9" pie crust - see my link below for a free-from sweet shortcrust pastry recipe.
You need of Filling.
Prepare 250 grams of sugar.
It's 65 grams of corn starch.
It's 240 ml of cold water.
Prepare 180 ml of rice milk.
You need 120 ml of full fat coconut milk.
Prepare 180 ml of fresh lemon juice.
It's 1 1/2 tbsp of grated lemon zest.
Prepare of gelatin or agar agar in any form.
Prepare 1/4 tsp of salt.
You need 1 pinch of turmeric for colour.
It's of Meringue.
Prepare 150 ml of 'water' from a can of cooked white beans or chickpeas.
You need 125 grams of icing sugar / powdered sugar.
Prepare 1/2 tsp of cream of tartar.
It's 1 tsp of vanilla extract.
Vickys Lemon Meringue Pie GF DF EF SF NF Vegan step by step
Preheat the oven to gas 4 / 180C / 350°F.
To make the filling, add all of the ingredients to a saucepan, checking the instructions for your gelatin / agar agar for how much you'll need to use and how to use it. I used pork gelatin sheets and needed 6 sheets to set the 720mls of liquid (3 cups) used in the filling. With agar agar you need to boil it to activate it. With gelatin you just simmer it or it won't set. Either way whisk it until it's thickened then it's ready.
Keep the filling covered but off the heat while you make the meringue:.
Pour the canned bean water into a stand mixer bowl and beat until cloud-like. Add the cream of tartar powder then the sugar in a tablespoon at a time.
It should be thick enough that the peaks don't flop over when you pat the top with the back of the spoon.
As soon as the meringue is done, pour the filling into the pie crust. While the filling is hot, spread the meringue mixture over it, carefully sealing to the very edge of the crust.
Bake for 20 minutes or until the meringue has started to turn golden, then let the pie cool. If you use agar agar as the setting gel, it will set at room temperature. If you use gelatin you'll need to refrigerate it but let it come to room temperature to serve.