Vickys Individual Apple & Custard Pies, GF DF EF SF NF.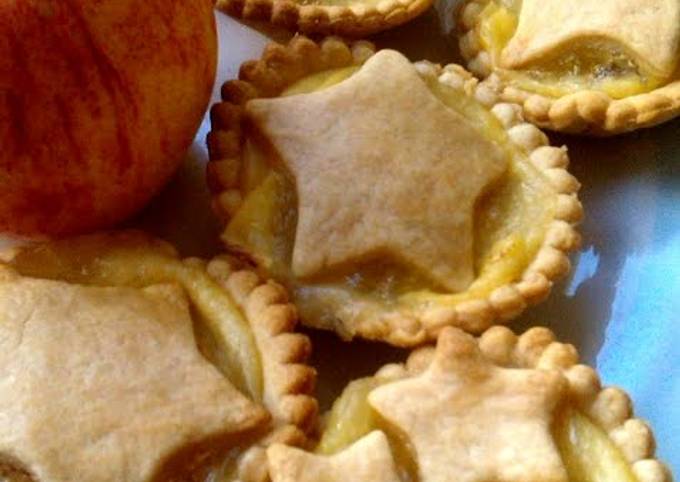 You can have Vickys Individual Apple & Custard Pies, GF DF EF SF NF using 5 ingredients and 13 steps. Here is how you cook that.
Ingredients of Vickys Individual Apple & Custard Pies, GF DF EF SF NF
It's 450 grams of sweet shortcrust pastry, see link below for my free-from recipe.
Prepare 12 tbsp of custard, my recipe is below.
It's 12 tbsp of apple sauce / puree / pie filler, recipe link below.
Prepare of ground cinnamon.
You need of sugar.
Vickys Individual Apple & Custard Pies, GF DF EF SF NF instructions
Preheat the oven to gas 6 / 200C / 400°F and lay out a 12 hole cupcake tin.
Roll out the pastry on a floured surface until 3mm thick https://cookpad.com/us/recipes/332957-vickys-sweet-savoury-shortcrust-pastry-gf-df-ef-sf-nf.
Use a fluted, round cookie cutter to cut 12 rounds out. The rounds must be big enough to line the tin holes completely.
Spray the tin lightly with oil and line with parchment paper circles, then press the pastry rounds into each hole.
With the leftover pastry, cut out small shapes for the lids such as hearts or stars, 2 or 3 for each lid depending on size. I do this to save time re-rolling the pastry. You can of course re-roll it and cut out 1 larger shape to fit as a lid.
Prick the bases with a fork and blind bake the pastry for about 10 minutes or until the pastry is just dry and still uncoloured.
At this point you can also bake the lids if you're planning on serving the pies cold.
Half fill each cooled crust with custard, one tablespoon should do it https://cookpad.com/us/recipes/332987-vickys-vanilla-custard-gluten-dairy-egg-soy-nut-free.
Spoon some apple puree / apple sauce or pie filling on top of the custard having sweetened to taste - again one tablespoon is ample https://cookpad.com/us/recipes/351776-rustic-chunky-cinnamon-apple-sauce.
If you've pre-baked the lids you can skip the rest of the oven steps. Just fill the pies and place the baked lids on top. The custard and apple puree are already cooked anyway, the oven is just to heat them through.
Place the pastry shapes on top to make the lids - you don't need to glaze the pastry lids but if you like, you can. Add an extra sprinkle of sugar and cinnamon on top if you like.
Bake for 15 minutes or until the lids are golden.
Carefully remove the pies from the tin and serve warm, or let cool on a wire rack for later, dusted with icing sugar.