Garlic Red-Skinned Mashed Potatoes.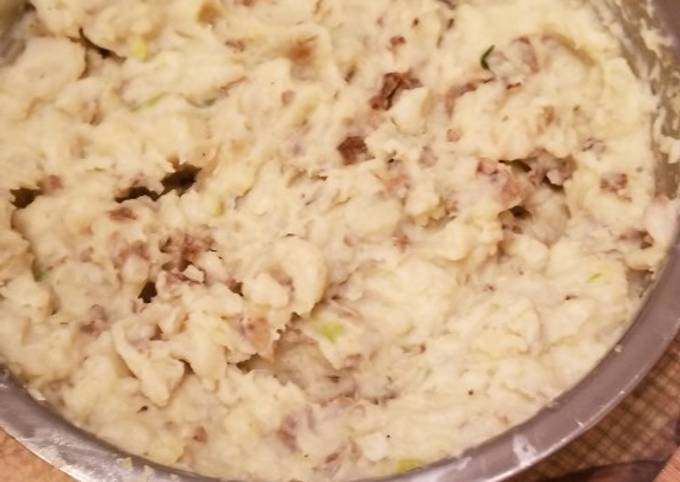 You can cook Garlic Red-Skinned Mashed Potatoes using 10 ingredients and 3 steps. Here is how you cook it.
Ingredients of Garlic Red-Skinned Mashed Potatoes
It's 1 of small bag of red skinned potatoes.
You need 2 of small green onion finely chopped.
It's 1/2 stick of butter.
Prepare 2 of large garlic cloves finely chopped.
Prepare 1 cup of milk.
It's of Salt.
It's of Pepper.
You need of Optional Ingredient:.
Prepare of Sour Cream.
You need of Parmesan Cheese.
Garlic Red-Skinned Mashed Potatoes instructions
Boil water in a large pot. Meanwhile cut potatoes into 1-2 inch sections. Add a bit of salt, pepper, and chopped garlic with the cut potatoes to boil until softened for mashing..
Remove the potatoes from the boiling water when you can smash them with a fork. Add onions and remaining chopped garlic. Salt and pepper to taste. Add milk and butter. (*here you can also add 1 cup sour cream and/or 1/2 cup grated parmesan) Using a large fork, beaters, or other cooking utensil smash everything down and begin to beat with mixer on high for 2-5 mins depending on desired consistency..
Place in freezer bags and/or freezer safe storage containers and stock up for the winter! Or enjoy immediately! 👏.