Cornetti sfogliati.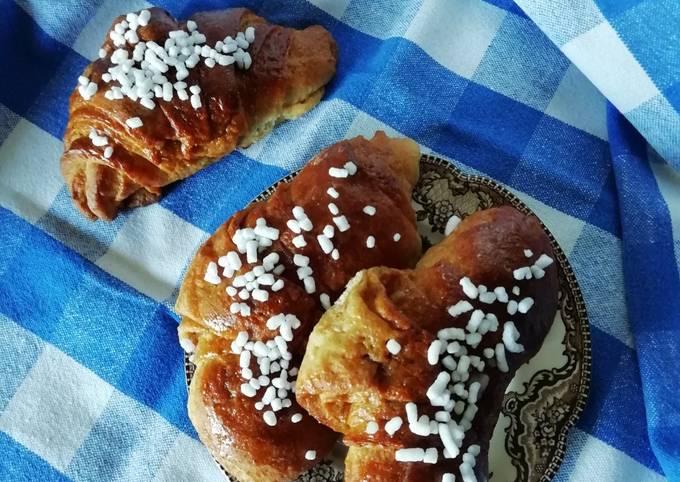 You can cook Cornetti sfogliati using 16 ingredients and 10 steps. Here is how you achieve it.
Ingredients of Cornetti sfogliati
It's 150 g of farina 0.
It's 50 g of farina integrale.
Prepare 50 g of farina Manitoba.
Prepare 125 ml of latte.
It's 1 of uovo piccolo.
Prepare 45 g of zucchero di canna scuro.
You need 4 of g lievito di birra fresco.
Prepare 1 cucchiaio of olio di semi.
It's 1 pizzico of sale.
Prepare 1 bustina of si vanillina.
It's of Per la finta sfoglia:.
It's 35 g of burro fuso.
It's 30 g of zucchero di canna scuro.
You need of Per finire :.
It's qb of Granella di zucchero.
You need of Acqua e zucchero rapporto 2:1.
Cornetti sfogliati step by step
Preparare un lievitino mescolando 50 g di farina (presi dopo aver mescolato le 3 farine) con 10 g di zucchero di canna, il latte e il lievito sciolto in quest'ultimo. Lavorare bene fino a ottenere un composto omogeneo (resteranno dei grumi ma va bene così). Coprire con pellicola e far lievitare un'ora in luogo tiepido..
Passato il tempo riprendere l'impasto e unire la restante farina, lo zucchero e la vanillina. Lavorare bene e unire l'uovo, l'olio e il sale. Impastare bene, coprire con pellicola e far lievitare 3 ore in forno spento con luce accesa..
Passato il tempo sciogliere il burro della sfogliatura e riprendere l'impasto. Dividerlo in 4 palline. Stenderle a cerchio di circa 18 cm di diametro..
Passare su 3 cerchi il burro fuso e mettere anche lo zucchero della sfogliatura. Sovrapporre tutti i cerchi cercando di farli combaciare in ampiezza tirandoli delicatamente..
Stendere il tutto fino a ottenere uno spessore di 0,5 mm..
Ricavare 8 triangoli e iniziare ad arrotolare partendo dalla parte più larga. In caso si usasse la farcia è il momento di aggiungerla in piccola quantità prima di arrotolare..
Mettere i cornetti sulla teglia del forno rivestita di carta forno. Coprire e fa lievitare fino al raddoppio sempre in forno spento con luce accesa..
Quando saranno raddoppiati di volume infornarli a forno caldo (180°)per 20 minuti.
Nel frattempo fare uno sciroppo mescolando acqua e zucchero (20g e 10g).far bollire fino a creare uno sciroppo.
Appena cotti i cornetti sfornarli e spennellarli con lo sciroppo. Cospargere con granella di zucchero e gustare tiepidi.