Croissant con la pasta sfoglia fatta in casa.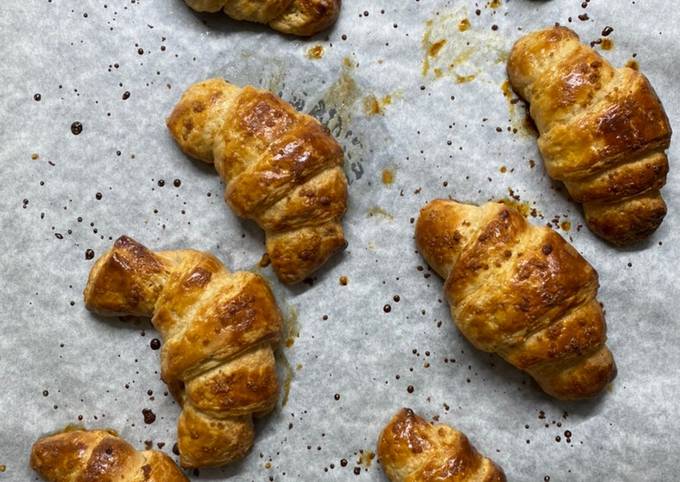 You can cook Croissant con la pasta sfoglia fatta in casa using 8 ingredients and 8 steps. Here is how you cook it.
Ingredients of Croissant con la pasta sfoglia fatta in casa
Prepare 110 g of farina tipo 0.
You need 110 g of farina tipo 2.
It's 30 g of zucchero muscobado.
You need 105 of g latte freddo.
You need 7 of g lievito di birra.
Prepare 4 g of sale.
It's 120 g of burro.
It's 1 of uovo.
Croissant con la pasta sfoglia fatta in casa step by step
In una coppa, mescola le farine con lo zucchero, il latte e il lievito di birra sbriciolato. Aggiungi per ultimo il sale e lavora sino ad avere un panetto compatto. Avvolgi nella pellicola e fai riposare per 1 ora in frigo..
Taglia il panetto di burro in 8 fettine uguali. Disponile a coppie di due come in foto, avvolgile con la carta da forno e stendile con il matterello, sino ad avere un lingotto alto 1 cm, dalla misura di 8 cm di larghezza e di 14 di lunghezza (vedi foto nel passaggio successivo)..
Prendere la pasta dal frigo e stenderla a forma di quadrato, 16 cm di larghezza per 16 di lunghezza: servirà ad avvolgere completamente il lingotto di burro..
Chiudi i due lembi laterali dell'impasto, racchiudendo all'interno il panetto di burro. Con il matterello, stendi il tutto sino ad una lunghezza di 24 cm (ti puoi aiutare con della carta da forno). Piega il rettangolo in 3, come in foto..
Con il matterello, stendi nuovamente l'impasto in verticale, per una lunghezza di 28 cm. Questa volta chiudi l'impasto a libretto, in 4, come nella foto. Avvolgi con la pellicola e conserva per 10 minuti in congelatore e 20 minuti in frigo. Ripeti questo passaggio per altre 2 volte..
Prendi per l'ultima volta il panetto dal frigo, infarinalo e stendilo per una lunghezza di 24 cm e uno spessore di 2,5 mm. Ricava 6 oppure 8 triangoli uguali fra loro (vedi foto)..
Avvolgili ognuno su se stesso, arrotolando la parte più larga e chiudendo a cornetto. Disponi su una placca da forno, spennella con un po' di tuorlo d'uovo e lascia lievitare in forno spento con la luce accesa per 3 ore (o fino al raddoppio)..
Spennella nuovamente con uovo e con una spolverata di zucchero e inforna a 180 gradi ventilato per 15 minuti..